The ground shook again in Eastern Connecticut on Thursday morning as the area experienced its 12th earthquake in a week.
On Friday local and state officials will be holding meetings to inform residents and discuss how prepared the state is should a damaging earthquake strike here.
The U.S. Geological Survey listed the earthquake at 4:39 a.m. in the Moosup section of Plainfield as a magnitude-2.2.
It occurred two days after geophysicists from Weston Observatory at Boston College, including Justin Starr, visited the area to investigate the frequent activity and brought seismometers to detect movement in the surface of the earth.
Their goal is to find the epicenter and determine whether eastern Connecticut is experiencing an "earthquake swarm," similar to one that the Bar Harbor area of Maine experienced several years ago.
Ninth Recent Earthquake in Plainfield
Star said earthquakes are not abnormal from time to time in New England, and they sometimes come as "earthquake swarms," which he described as several earthquakes in fairly quick succession.
For instance, there were more than 40 earthquakes in the Bar Harbor area of Maine over several weeks in 2006 and 2007, but the activity then died down, Starr said.
"Is this on the same scale as that? Too soon to tell. It may just die down or it may capture a few more quakes, but it's no surprise to us," Starr said.
Earthquakes, centered in Plainfield, have rattled Eastern Connecticut every day for the last four days and 12 times since last Thursday.
On Friday morning, the Department of Emergency Services and Public Protection will hold a multi-agency briefing at the State Emergency Operations Center to discuss the state's preparedness should earthquakes continue and begin to cause damage.
Later in the day, a public forum will be held to provide information and answer residents' questions.
The Board of Selectmen in Plainfield, along with the Plainfield Police Department and Office of Emergency Management will hold an informational session at 6:30 p.m. on Friday, January 16, at Plainfield High School Auditorium about the earthquakes.
According to the U.S. Geological Survey, there have been small earthquakes in New England since colonial times, with moderately damaging quakes happening every few decades and smaller earthquakes around twice per year.
On Wednesday, the area experienced its 10th and 11th earthquakes. The U.S. Geological Survey listed the 6:33 a.m. earthquake in Plainfield as magnitude-2.0. Then, at 8:10 a.m., there was a 1.8 magnitude quake in Plainfield.
Tuesday, the Weston Observatory at Boston College recorded a magnitude 2.1 earthquake, an aftershock from a larger earthquake the day before.
Stronger Earthquake Hits Eastern Connecticut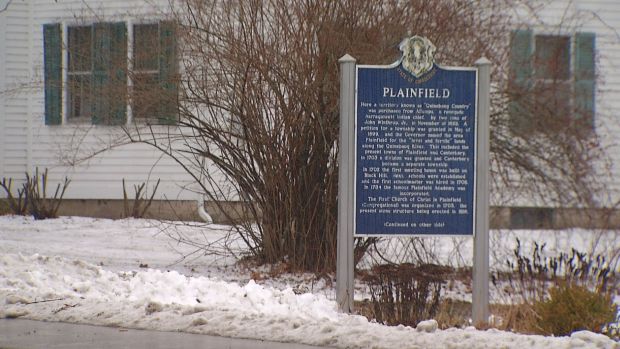 Tuesday's quake happened at 7:27 a.m. and was centered about 3 and a half miles south-southwest of Danielson, according to the observatory.
On Monday, there were several earthquakes in the area including a magnitude-3.3 temblor at about 6:30 a.m. that day that was the strongest in the series of quakes. Here is the full list of activity since the beginning of the year.