What to Know
Gov. Lamont is planning a four-phase reopening of the state, with the first phase having started on May 20
The first phase of reopening included restaurants (with outdoor dining only), malls, offices (where employees can't work from home). Hair salons and barbershops, along with casinos, reopened June 1.
Phase 3, which was to include larger outdoor gatherings and bars, has been paused indefinitely
The Latest on Connecticut's Reopening Plans
Monday, July 6
Phase 3 Put On Hold Indefinitely; State Campgrounds to Still Open July 8
Governor Ned Lamont announced Monday that the state of Connecticut will pause Phase 3 reopening amid a jump in COVID-19 cases in different areas across the United States.
Lamont emphasized that Connecticut never opened restaurants to more than 50% capacity. The state will "take a pause" on phase 3 reopening, allowing 25-person gatherings inside and 100 people outside. There is no clear answer on when bars might reopen.
"If we learned one thing, it's how much safer it is outdoors than indoors," Lamont said.
Lamont said state campgrounds will still reopen on July 8.
"We have a lot of work to do and thankfully Connecticut is doing it right in a very thoughtful way," Lamont said. The governor said he is keeping an eye on what's happening in other states.
Tuesday, June 16
Bradley Airport Adding Coronavirus Safety Measures For Passengers
Bradley International Airport is implementing changes as people slowly return to traveling during the COVID-19 pandemic.
The new initiative, called "BDL Cares," is an effort to make the airport safe for passengers who are flying in and out of Bradley.
The program is part of an added initiative to measures the airport put into place at the beginning of the pandemic.
"Now that we are starting to anticipate the gradual return of passengers, we are taking it a step further with the implementation of this comprehensive program to include additional cleaning, physical distancing procedures, and other measures intended to keep everyone safe," said Kevin Dillon, executive director of the Connecticut Airport Authority.
Click here to learn more about the changes coming to Bradley Airport for safety of passengers.
---
Monday, June 15
Driving Schools and Nail Salons Prepare to Reopen in Phase 2
The State of Connecticut is just days away from entering phase two of the reopening plan. Phase two includes amusement parks, hotels, nail salons, driving schools, among others. A full list of businesses allowed to reopen in phase two can be viewed here.
Visiting a nail salon for a manicure or pedicure will look different than ever before. The state is requiring each salon to follow a specific set of rules before reopening which includes changes to workstation setup and strict cleaning plans.
---
Friday, June 12
Foxwoods Takes Next Steps in Reopening Plan
Foxwoods announced Friday that it is moving forward with reopening plans, which include opening more activities on the property.
The tribe has reopened the Fox Tower Casino, and has announced plans to reopen six restaurants, Monza World-Class Karting, and a new drive-in movie option, as well as expanding hotel capacity.
The Fox Tower Casino is now open Friday through Sunday from noon to 2 a.m. for slots and electronic table games. Social distancing guidelines remain in place.
Foxwoods officials said over 30 stores at the Tanger Outlets are open and more expected to open over the next few weeks.
Connecticut Nursing Homes Begin to Allow Outside Visits
Nursing homes in Connecticut are beginning to allow some residents to meet with loved ones, months after Gov. Ned Lamont imposed a ban on most visits to help slow the spread of the coronavirus.
Nursing homes and assisted living facilities have been particularly hard hit during the pandemic since older people are among the most vulnerable to the virus — but limiting visits was hard on residents and families.
"We know that the social and emotional connection is incredibly important," said Connecticut Long Term Care Ombudsman Mairead Painter, during a Facebook chat with families this week.
Figures released Thursday show there have been a total of 2,648 confirmed or probable deaths associated with the virus at nursing homes and 349 confirmed or probable deaths at assisted living facilities in Connecticut. Combined, those deaths make up more than 72% of the state's total 4,146 COVID-19 deaths, as of Thursday.
The state Department of Public Health this week issued new guidelines that allow nursing home residents who have tested negative for COVID-19 and have not been exposed to the coronavirus to meet outdoors with a limited number of people. Those visitors must be screened by the staff and sit at least 6 feet apart.
---
Wednesday, June 10
UConn Releases Possible Plan for Fall Reopening
The University of Connecticut has released information on what the plan to reopen the university in the fall could look like.
The plan, which is not yet final, says masks would be required in public, common spaces, including classrooms.
UConn said it has purchased enough masks to supply the entire community, but if someone is unable to wear a mask, such as for a medical condition, the university will work with that individual to identify a solution before the return to campus.
Read more about UConn's proposal here.
---
Monday, June 8
Waterbury to Hold July 4th Fireworks Display
Waterbury will hold its annual Fourth of July fireworks display this year.
The city announced on Monday the event will take place on Sunday, July 5, at 9:15 p.m. It is likely to be one of the few displays in Connecticut since many cities and towns have canceled events due to the coronavirus pandemic.
Police will not allow vehicles or people to view the fireworks from the Brass Mill Center Mall parking lots in an effort to maintain proper social distancing practices.
Governor Previews Phase 2 Reopening
Connecticut Governor Ned Lamont has released new details about the rules that businesses that plan to reopen during Phase 2 will have to follow.
The new information includes specific rules that eligible businesses that fall under Phase 2 must follow during the ongoing coronavirus pandemic. Phase 2 reopening is set for Wednesday, June 17.
On June 17, the state will have about 95% of its economy up and running, according to Gov. Lamont.
---
Friday, June 5
Phase 2 Moved Up to June 17
Governor Lamont announced on Twitter that he was moving up the start of phase 2 to June 17.
Instead of starting Phase 2 on June 20, Gov. Ned Lamont said Phase 2 will start on June 17 as long as COVID hospitalizations and infection rates remain low.
Among the businesses that the governor has said will be able to open in Phase 2 are gyms, nail salons and movie theaters.
"To avoid having Phase 2 of Connecticut's reopening efforts take effect during a busy Father's Day weekend, we're going to move it up a few days earlier to June 17," the governor Tweeted.
Businesses that were deemed "non-essential" closed down in March to help slow the spread of the COVID-19 virus. On May 20, Phase One started, which allowed some businesses to reopen.
What's Opening in Phase 2:
Accommodation (no bar areas)
Gyms, fitness & sports clubs
All personal services (nail salons, tattoo parlors)
Outdoor arts, entertainment, and events (up to 50 people)
Outdoor amusement parks
Movie theaters
Bowling alleys
Social clubs, pools
All museums, zoos, aquariums
Restaurants (indoor dining, no bar)
What's Planned for Phase 3:
Phase 3, according to the governor, would come at a later date in the summer, potentially in late July. The businesses to open in Phase 3 include:
Bars
Indoor event spaces & venues
Indoor amusement parks & arcades
Outdoor events (up to 100 people)
---
Monday, June 1
Hair Salons and Barbershops Begin to Reopen
After being closed for months because of the COVID-19 pandemic, hair salons, barber shops and casinos in Connecticut will reopen today.
The hair salons and barber shops are required to follow sanitation and safety guidelines.
Phase One of reopening the state began on May 20 and salons and barber shops were initially part of that plan, but the governor delayed the reopening after discussions with owners and stylists who wanted more time to make sure it is safe for them and their customers, he said.
Casinos Reopen
The state's two tribal casinos, Foxwoods and Mohegan Sun, will reopen today.
Foxwoods' website says the experience will look and feel different. They said temperature checks will be done with thermal cameras and anyone with a temperature of over 100.4 will not be allowed inside. Anyone who is not feeling well or is in an "at-risk" category is asked to stay home. Capacity will be limited to 25 percent, masks are required and guests are asked to remain six to 10 feet away from others. Learn more here.
Mohegan Sun said safety measures also include elevator buttons being cleaned and disinfected once an hour, escalator handrails being cleaned and disinfected once an hour and an additional 64 air handling systems with UVC emitters installed. Learn more here.
Plexiglass has been put up on the gaming floors and dice will also be sanitized.
---
Wednesday, May 27
Archdiocese of Hartford Announces Weekday Masses Can Resume June 8
Weekday Masses in the Archdiocese of Hartford can resume beginning June 8, the Archdiocese announced in new reopening guidelines on Wednesday.
The guidelines only permit weekday Masses for the time being and do not provide a timeframe for the restarting of Sunday Masses.
Archbishop Leonard Blair dispensed with the obligation of attending Sunday mass for Catholics in the Archdiocese through Sunday, September 6.
No more than 50 worshipers will be allowed to be present at Masses in this first phase and those present must practice social distancing and wear masks.
---
Tuesday, May 26
Nordstrom will be reopening its three stores in Connecticut on Thursday. Those locations are listed below:
Nordstrom Westfarms in Farmington
Nordstrom Rack West Farm Shopping Center in Farmington
Nordstrom at The SoNo Collection in Norwalk
---
Friday, May 22
Macy's will be reopening select stores across Connecticut on Friday morning.
The stores open for in-store shopping are:
Macy's Brass Mill Center
Macy's Crystal
Macy's Connecticut Post
Macy's Danbury Fair
Macy's Shoppes at Buckland Hills
Macy's Stamford Town Center
Macy's Trumbull
Macy's Westfarms
The stores will be open from 11 a.m. to 7 p.m.
Customers will also be able to use contact-free curbside pick-up Monday through Friday between 11 a.m. and 5 p.m
Macy's Reopens Select Stores
---
Thursday, May 21
Earlier today, Governor Lamont spoke with Kevin Nathan about the state's reopening plan and answered your questions.
---
Wednesday, May 20
Governor Lays Out Phase 2 and Phase 3
In Phase 2 of his plans, Lamont said the following would be opening. He set the target date for Phase 2 as June 20.
Accommodation (no bar areas)
Gyms, fitness & sports clubs
All personal services (nail salons, tattoo parlors)
Outdoor arts, entertainment, and events (up to 50 people)
Outdoor amusement parks
Movie theaters
Bowling alleys
Social clubs, pools
All museums, zoos, aquariums
Restaurants (indoor dining, no bar)
Phase 3, according to the governor, would come at a later date in the summer, potentially in late July. The businesses to open in Phase 3 include:
Bars
Indoor event spaces & venues
Indoor amusement parks & arcades
Outdoor events (up to 100 people)
Education & Community Services
In addition to businesses, Gov. Lamont also details plans to restart some education programs and services that are provided across the state. Some of those that will restart in Phase 2 are:
Selected youth sports (June 20)
All summer day camps (June 22)
Public libraries (June 20)
Nonresidential workforce programs (mid-June)
Nonresidential clinical/laboratory courses (mid-June)
K-12 summer school (July 6)
Other nonresidential programs (July/Aug)
Graduate programs (July/Aug)
Undergraduate residential small-scale pilot programs (July/Aug)
Gov. Lamont said undergraduate residential programs at colleges, K-12 schools, and boarding schools will all be decisions made at a later date.
Casinos Announce June 1 Phased Reopenings
The Mashantucket Pequot Tribal Nation and the Mohegan Tribe announced Wednesday that they will begin reopening portions of their reservations on June 1.
Portions of both Foxwoods Resort Casino and Mohegan Sun will reopen on that date with new safety guidelines in place, including the wearing of personal protective equipment and social distancing guidelines.
The tribes said they collaborated to create new safety protocols amid the coronavirus pandemic, and said that their policies are "consistent with or exceeding the State's phased guidance and safety protocols."
During the first phase of reopening on June 1, concert venues, buffets and poker rooms will remain closed, and restaurants will be open only for takeout.
The properties will also aim to welcome only Connecticut and Rhode Island residents. They will not be marketing to New York or Massachusetts, and they will not accept out-of-state buses.
Officials also said employees will receive training on infectious disease safety and proper sanitation protocols.
Reopening Begins in Connecticut
Businesses can begin to reopen today. Retail establishments can resume in-person operations if they follow certain rules to prioritize the safety of shoppers and employees.
Per phase one guidelines, retail businesses and malls can open at 50 percent capacity so expect employees or security to monitor crowds.
Limited Stores Open at Westfarms
We're getting our first look at what stores are open at Westfarms shopping center in West Hartford.
According to the Westfarms website, the following stores are open as of May 20:
Aerie
American Eagle Outfitters
Anthropology
AT&T
Auntie Anne's Pretzels
Dunkin Donuts
Forever 21
Free People
Garage
Go! Calendars, Games and Toys
Gusnova Gelato
Hakky Shoe Repair
Hallmark
Hannoush Jewelers
Journeys
LEGO (Curbside Only)
Louis Vuitton
Munson's Chocolates
Parade of Novelty Sports
PF Changs (Curbside and Delivery Only)
Pottery Barn
Pretzelmaker
Subway
Surf City Squeeze
Tiffany and Co.
The Fix
Urban Outfitters
Zagg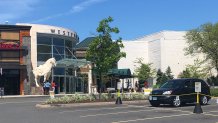 Crystal Mall and Clinton Crossing Premium Outlets reopen
As part of the state's allowance for shopping centers to reopen, the Crystal Mall and Clinton Crossing Premium Outlets both announced they will be reopening today.
Both shopping centers, part of Simon, have put in in place health and safety protocols.
You can view the safety protocols here.
Outlet stores open as of May 20, according to the Clinton Crossing outlets website:
Abercrombie & Fitch
Finish Line
Lindt Chocolate
At the Crystal Mall, the following stores are open, according to the mall's website:
Buffalo Wild Wings
Cohen's Fashion Optical
Dollar N Things
EbLens
Finish Line
Froyo World
Global Cellular
Ice Imports
Journeys
Longhorn Steakhouse
Mr. Fix It
Mr. Fix It Too
Olive Garden
Pretzelmaker
Shoe Dept. Encore
The Toy Vault
ThriftiBois
Valley Kids Toys
Vape City Smoke Shop
---
Tuesday, May 19
Beardsley Zoo Announces June 1 Reopening
Connecticut's Beardsley Zoo in Bridgeport is planning to reopen on June 1, the zoo announced Tuesday.
There will be two sessions each day allowing for 50 percent capacity in each session. The first is from 9 a.m. to 12 p.m. A second session is from 1 to 4 p.m.
The Zoo will close from 12 to 1 p.m. for cleaning each day.
The zoo is putting into place a number of changes and protocols (according to a press release from Beardsley Zoo):
Masks must be worn by all guests, except for those ages two and under
Social distancing must be observed, with six-foot distancing between family groups
Tickets must be purchased online in a contactless system: links will be provided on the website and social media before opening
A one-way loop around the Zoo is identified by signs to keep cross traffic at a minimum
Restrooms will be monitored and cleaned throughout the day
An online app will allow food orders for pick-up through a side window. Limited menu items. Guests may bring their own food
No stroller or wheelchair rentals are available. Guests are asked to bring their own
All buildings at the zoo will be closed with the exception of restrooms, which matches the state's requirements allowing zoos to open outdoor spaces but not indoor exhibit spaces.
Mystic Aquarium Announces Phased Reopening Plan
Mystic Aquarium is reopening to the general public on Friday, but plans to host special events in recognition of the community and frontline workers on Wednesday and Thursday.
The aquarium said they are reopening with the special events on Wednesday and Thursday in recognition of the support of the local community and the efforts of healthcare workers, emergency responders and other essential workers.
On Wednesday, Mystic Aquarium will hold a member's only event. On Thursday, complimentary admission will be given to frontline workers of the coronavirus crisis, the aquarium said. Frontline workers include healthcare workers, first responders, grocery and pharmacy staff. Each person requires a reserved time ticket.
Mystic Aquarium will reopen to the general public officially on Friday and access to the aquarium will be limited to outdoor spaces at 50 percent, according to officials.
Aquarium officials said the outdoor space includes the Penguin Pavilion, Marsh Trek, Pacific Northwest habitats and the Arctic Coast habitat featuring New England's only beluga whales.
Blue Back Square to Reopen May 20
Tomorrow is the day the first phase of Connecticut's reopening begins and Blue Back Square in West Hartford will be open for business.
The hours for the dining and shopping center will be Monday through Saturday, 11 a.m. to 7 p.m., and Sunday, from noon to 6 p.m., but opening schedules will vary by shop and restaurant, so you are urged to call ahead.
Garage parking and curbside spaces are available and customers are urged to use the Mobile Parking App for touchless payment.
Face masks are required in all public spaces in Connecticut and Blue Back Square "strongly recommends the use of face masks and any other PPE recommended by the CDC or local and state officials," according to its website.
The website says seating is positioned at six-foot distances and cleaned and sanitized regularly.
Customers throughout the center are urged to maintain a six-foot separation from others and graphics will be set up to help maintain the social distancing recommendations.
Best Buy Announces Some Stores Reopening for Inside Shopping
Since March, Best Buy's locations in Connecticut have been providing a "Contactless Curbside service," but beginning May 20, shoppers will be able to enter some stores in the state.
The locations open for inside business include: Orange, Danbury, West Hartford, Manchester, Newington, Waterford, Meriden, Norwalk, Enfield, Trumbull, West Simsbury and North Haven.
Customers will be able to work with Geek Squad employees for consultations with specific safety protocols in place.
Customers are urged to make an appointment for a consultation in advance.
---
Monday, May 18
Opening of Connecticut Hair Salons and Barbershops Delayed Until Early June
The opening of hair salons and barbershops was delayed from phase one on May 20 until sometime in early June, the governor announced on Monday.
The governor's office released a statement announcing that Gov. Ned Lamont and Rhode Island Governor Gina Raimondo would now plan to realign the reopening of hair salons and barbershops in the two states in early June.
The governor said in his Monday news conference that he is targeting June 1 for the reopening of salons and barbershops.
"We've been hearing a lot of feedback from many owners and employees, and at this time I think the best approach is that we hit pause on the reopening of hair salons and barbershops, take a step back, and allow some more time as preparations continue to be made," Governor Lamont said.
Initially, hair salons and barbershops were part of the first phase of the governor's reopening plan and were permitted to reopen on Wednesday, May 20.
---
Friday, May 15
Hartford Open to Different Outdoor Locations for Restaurants
Hartford businesses that are eligible to reopen on May 20 can apply for outdoor eating, outdoor alcohol, outdoor retail activity and outdoor signage permits, and businesses that have existing permits for those activities and are not expanding them do not have to apply, according to a news release from the mayor's office.
"We want to make this simple and easy for our businesses," the mayor said.
Restaurants that already have outdoor space permits, do not need to participate in this process. Restaurants that have outdoor space near the restaurant, even parking spaces, will need to request a permit.
The city will work with the Hartford Parking Authority to approve restaurants' permits if they want to use parking spaces in front of or by the restaurant.
Bronin said for restaurants that do not have available outdoor space, the city is willing to consider proposals to use other public or private spaces for outdoor service, even including looking at closing streets.
The permit applications are available online here.
---
Thursday, May 14
How Officials Are Deciding What to Reopen, and When
The committee that has been advising the governor on ways to reopen businesses in Connecticut gave a glimpse Thursday of how they are deciding which businesses can reopen when, based on health risks and economic impact.
They said there are several public health and economic indicators that go into reopening plans.
The health indicators include probability of contact, the length of contact, the number of contact, disinfection and social distancing.
Economic indicators include GDP, the number of businesses, the total employment and unemployment claims.
The five guiding principles, they said, are putting the public health first, being science driven, to ensure that PPE and hospital beds are available as well as that individual businesses can choose whether to open.
Senate Democrats Raise Concerns About Lamont's Reopening Plans
A group of State Senate Democrats has sent a letter to Gov. Ned Lamont expressing concern over the governor's plan to reopen the state beginning on May 20.
In the letter, the senators listed questions they have about some of the criteria that Lamont has laid out as key to slowly reopening the state.
Among their concerns is the governor's reliance on a statewide decline in hospitalizations. The senators want to know the state's plan if hospitalizations climb in one area of the state. The senators also raised concerns about whether the state will have adequate testing to reopen.
Connecticut Post Mall to Reopen
The Connecticut Post Mall in Milford announced Thursday that it will reopen on May 20 with coronavirus restrictions in place.
The mall plans to operate on a reduced schedule for the first 30 days of the reopening to allow more time for cleanings, opening from 11 a.m. to 7 p.m. Monday through Saturday, and noon to 6 p.m. on Sunday.
Wednesday, May 13
Phase 2 Reopening Could Come on June 20
Gov. Lamont said he expected June 20 as a target date for Phase 2 of the reopening plan.
He did not list what businesses would be allowed to reopen on that date but suggested he might want to see some indoor dining at restaurants by that date.
When asked what other businesses might be a part of the Phase 2 reopening, Lamont said gyms were a possibility.
He said he would look to events that could be held outdoors, such as weddings or even graduations.
Restaurant Association Raises Concerns to Governor
A group of business leaders spanning several industries sent a letter to Gov. Ned Lamont on Wednesday asking him to allow some indoor dining at restaurants in Connecticut beginning June 3, according to the Connecticut Restaurant Association.
Under Phase One of Lamont's reopening plan, restaurants will be allowed outdoor dining as of May 20. Currently, restaurants can serve take-out or delivery only.
The letter raises concerns that restricting restaurants to outdoor dining only won't be enough for many of them to stay in business.
Westfarms Announces It will Reopen on May 20
Westfarms will reopen to the public on Wednesday, May 20 on a reduced schedule.
The mall will be open from 11 a.m. to 7 p.m. from Monday to Saturday and from 11 a.m. to 6 p.m. on Sunday.
They said retailer and restaurant hours might vary and to call for individual hours.
Wood-n-Tap Opening for Takeout at Select Locations Tonight
Wood-n-Tap has been closed since March because of the coronavirus pandemic and they will be open for curbside pickup at some locations, starting this evening.
The restaurants in Rocky Hill, Farmington, Southington and Newington will be open from 4 p.m. to 8 p.m. today.
Starting tomorrow, those restaurants will be open from 11 a.m. to 8 p.m.
---
Tuesday, May 12
State Reviewing Dental Office Guidelines; Says It Is Open to Further Guidance, Restrictions
The Lamont Administration is meeting with dentists, hygienists and occupational safety experts to review guidelines for the reopening of dental offices, said David Lehman, the state's commissioner of the Department of Economic and Community Development.
The meetings come after the state has received feedback from hygienists concerned about the safety of returning to work during the coronavirus pandemic.
The state could at some point add a restriction against dental cleanings and other non-urgent care, Lehman said.
Mohegan Sun Extends Closure to May 26
Mohegan Sun will be closed at least until May 26.
Mohegan Sun, like so many other businesses, has been closed since March because of the COVID-19 pandemic.
The last update from the casino was that it would be closed through May 12. A statement on the Mohegan Sun website now says it will be closed through Tuesday, May 26 and to check back for updates.
Blow Dryers and Hair Dryers Both Can be Used As Needed at Salons For May 20th Reopening: Official
Hair salons will be able to use both hair dryers and blow dryers if they choose to reopen as part of Connecticut's phase one reopening plan, said the state's commissioner of the Department of Economic and Community Development, David Lehman.
Lehman said salons should make a case-by-case determination if the dryers are needed and if it's determined yes, they should feel safe to use it.
The state originally said that hair salons opting to reopen on May 20 would not be allowed to use the blow dryers, citing concerns about circulating particles through the air.
Westfield's Meriden, Trumbull Malls to Reopen May 20
Westfield announced Monday it will reopen its mall locations in Meriden and Trumbull on May 20.
Shopping malls across Connecticut were closed in March to curb the spread of the coronavirus. Malls are included in the first phase of reopening, state officials said last week, but they will have to follow the retail guidelines.
Westfield said the shopping centers will have modified hours, open 11 a.m. to 7 p.m. Monday through Saturday, and noon to 6 p.m. on Sunday.
Summer Camps Can Open June 29, But Not Overnight Camps
Summer camps in Connecticut can reopen on June 29 if they follow state guidelines, however overnight camps do not qualify for that phase one reopening, said the governor's chief of staff Paul Mounds.
Mounds clarified Monday overnight camps will not be allowed to reopen in late June and will reopen in a later phase.
The Office of Early Childhood says summer camps can open on June 29 in the state with specific guidance in place. That guidance includes enhanced health screening, limiting group size to no more than 10 children with the camp needing permission to serve more than 30, for employees to wear cloth face masks, to implement hand and respiratory hygiene, develop protocols for intensified cleaning and disinfection, and to implement social distancing strategies.
---
Wednesday, May 6
Recommendations Revealed for Phased Reopening of Conn. Colleges, Universities
A plan to reopen Connecticut's colleges and universities would likely be phased throughout the summer with the aim of in-person instruction in the fall, according to recommendations given to Gov. Ned Lamont by the Reopen Connecticut Advisory Group.
The goal at the end of the phased reopening is to allow the state's higher education institutions to be able to reopen for the fall semester, if progress continues to be made against the coronavirus, the governor's office said in a press release.
Each school would be free to decide if they need more time for certain programs before restarting.